Home appliances form an essential part of our lives for all of us. Be it geyser during winter or AC machines during hot summers, refrigerators throughout the year, any breakdown of any of these home appliances causes much discomfort and inconvenience for us. Thus you need the best maintenance and repairing for their efficient working. But getting professional repairing services becomes difficult in most cases. Cyborg Services is a leading company dealing in the repairing and maintenance of these consumer electronics products in Shyambazar.  We are expert at repairing and maintenance of all home appliances which include AC machines, refrigerators, washing machines, microwave oven, LED & LCD TVs, DVD Players, and Geysers. We deal in all the leading brands like LG, Samsung, Whirlpool, Carrier, Electrolux etc.
Why Cyborg Services at Shyambazar for your Home appliance repairing and maintenance needs?
We understand the value of delivering high standards of service. This is why we employ the very best service engineers in the business that  are conversant with the latest technology and adept in efficiently handling any home appliance of all the leading brands. They, therefore are able to provide on the spot solutions to any problem that you may face for your consumer electronics product. Apart from this , we have a very advanced technologically repairing center which is capable of dealing with any leading brand of the market currently.
Why trust the quality of our Repairing and maintenance services?
Supply of genuine parts for all leading brands
Transparent billing for all services
Quick and prompt services for all repairing and maintenance needs
We offer on spot solution for all your needs
We offer long support hours from 9 AM to 10 PM, 7 days a week
We provide support for all leading brands in the market
We have a very efficient team of service engineers to deal with any kind of problem.
So no if you are based in the Shyambazar area we would be able to serve you promptly with the best of our services. So no matter what your repairing or maintenance needs may be for your home appliances , get it serviced from Cyborg Services.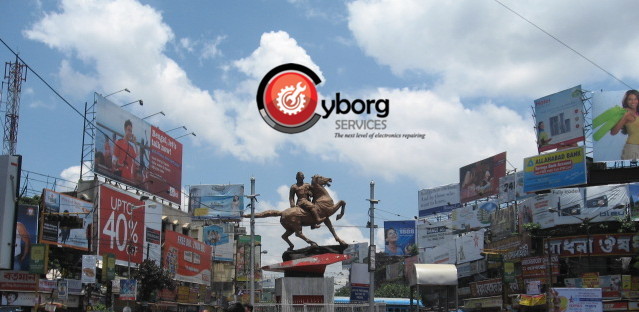 Our Services

Washing Machine Repairing
Are you looking for washing machine repairing service?

Domestic/Commercial Fridge Repairing
If you are looking service or repair at your home or business

Camera Repairing
A leading camera repair service center in Kolkata for all brands like Canon, Nikon, Kodak, Samsung, etc