Cyborg Services: Leading Home Theater Service Center in Kolkata
If you are on the lookout for the leading Home Theater Service Center in Kolkata then Cyborg Services is definitely the company to look for. We offer comprehensive repairing service in Kolkata that would take care of any type of problems that you might be facing for your Home Theater. In the World of entertainment today Home theaters now plays an important role. With the latest and advanced Home Theaters available today you could get a complete theater like experience right within in your home. So for having a complete cinematic experience you need not step out and enjoy the same right within the comfort of your home.
However in case something goes wrong with your latest home theater systems it could be a real botheration for you and your entire weekends could get spoilt. However with Cyborg Services, the perfect Home Theater Center in Kolkata, you can be rest assured that, your Home Theater systems would be taken the best care of.
Why opt for Cyborg Services: The leading Home Theater Service Centre in Kolkata?
➥ Bose Audio System.
➥ Best technicians in Kolkata for dealing with any type of problem regarding Home Theater Systems
➥ Avail Prompt Repairing Solutions at Your Door Step
➥ Cyborg Services offers the "State of the Art" Repairing facilities to deal with any problem
➥ We offer Service Warranty for all the Repairing Solutions we offer, which means that you can have your true value for your money
➥ Be it any brand of Home Theater Systems we offer the best repairing solutions for all
➥ We offer genuine parts in case of any replacements, which means that the repairing we do would last long
➥ Transparent Billing, so that you know what you are paying for
➥ We offer Long Support hours from 9 AM to 10 PM.
➥ We work all the 7 Days a week
➥ On spot solution for any kind of problem.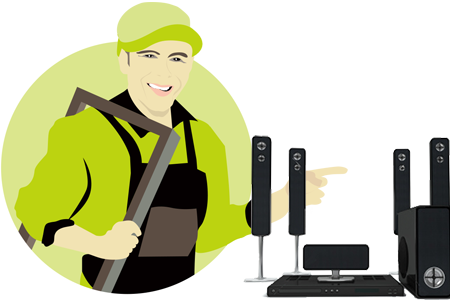 So Book the best Home Theater Repairing Service in Kolkata with Cyborg Services.
Music System Repair Solutions we provide at Cyborg Services
☛ Housing Repairing.
☛ Loader Repair.
☛ Main PCB Repairing.
☛ Adapter Repairing.
☛ Lens Repair.
Audio System Parts & Service we provide at Cyborg Services
☛ Adapter.
☛ Main Cord.
☛ A.V Cord.
☛ H.D.M.I Cord.
☛ Remote Control.