Looking for Audio System Repairing Shop in Kolkata? Have you spent hours tinkering with it without getting any solution? Well, today is your lucky day because you found the best audio system repair expert. At Cyborg Services you will get affordable solutions to your problems along with quality service and care.
An audio system is the heart of a party and it just isn't the same without it running in the background. Don't let it sit around in the corner of your house just because other so called 'experts' couldn't fix it. Try us to experience the difference and end your worries.
We can fix any type of problems related to the music systems, including issues like stuck in standby mode, open/close not working, showing no disk, humming sound, DVD not working but everything else working fine, micro switch not working or micro switch working automatically etc. We can fix it even if it is dead. Yes, you read that right, you are just a call away.
Popular Brands of Audio System We Repair
➥ Bose Audio System.
➥ Creative Music System.
➥ Philips Audio System.
➥ LG Audio Systems.
➥ Sony Audio Systems.
➥ Samsung Audio System.
➥ JBL Music System.
➥ Logitech Music Systems.
➥ Dell Speakers.
➥ Lenovo Audio Speakers.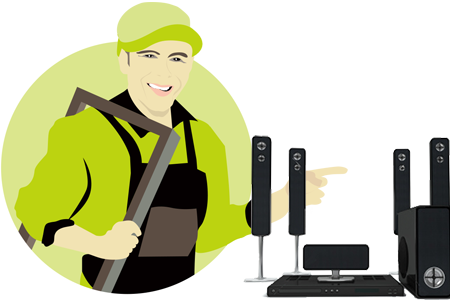 Going to fix your audio system in a local repairing shop can be a risky move considering the lack of security in their service. Instead of fixing your music system properly sometimes they steal important internal parts and give you excuses to keep your money. It will waste your time and money while leaving you even more disappointed. Avoid all frustration by booking the best.
You can expect top quality service from our experienced technicians and get your music system repaired in the shortest time possible.
Music System Repair Solutions we provide at Cyborg Services
☛ Housing Repairing.
☛ Loader Repair.
☛ Main PCB Repairing.
☛ Adapter Repairing.
☛ Lens Repair.
Audio System Parts & Service we provide at Cyborg Services
☛ Adapter.
☛ Main Cord.
☛ A.V Cord.
☛ H.D.M.I Cord.
☛ Remote Control.